Custom Book Marketing Services for Authors
Ready to sell some books?
When should I start to market my book?
Since marketing is the key to any successful book, we encourage our authors to begin marketing while they are in the writing phase. "It's never too early to start marketing your book."
Our custom designed marketing programs use traditional and online approaches as well as state of the art marketing tools. We help our authors set and achieve their goals, find and attract their target audience, build a brand and create engaging content all while promoting the book.
We understand first-hand that achieving success takes careful planning, hard work, consistency, creativity and time. We work tirelessly to position the author properly within their genre and share the tools and knowledge for them to continue marketing their book well into the future.
What makes Stress Free Book Marketing different?
Our experience and knowledge comes from self-publishing, marketing and distributing dozens of titles worldwide for our own publishing company Stress Free Kids. When you experience what goes into self-publishing and being published by Simon & Shuster and Scholastic, you quickly learn that marketing your book is ultimately your responsibility! We currently live and breathe these strategies for our titles, and would like to help you achieve the same.
Behind every successful book is an author willing to roll up their sleeves and do what it takes to be successful. We are passionate about helping our authors master the skills necessary to be successful.  Read more about Lori & Rick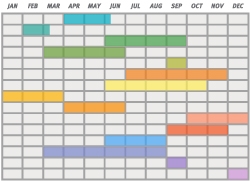 What clients are saying about us...
"Rick and his team were amazing to work with. Being a new author they were exactly what I needed to make this a 'pain-free' and 'stress free' process.  His guidance, support, education and knowledge throughout were invaluable and had I not used them I would have been stuck spinning my wheels.  If you are needing publishing and marketing support for your book, look no further! - Carlos Hidalgo, Author, The UnAmerican Dream 

"Rick Lite of Stress Free Book Marketing, well to simply put it, is nothing short of amazing at helping authors. I'd lost all hope for marketing of my book and then found Rick. He not only is great at what he does but he also cares about his authors. I was lost in the marketing aspect and had been ripped off two times. Rick not only fulfills what he says he'll do but, he goes above and beyond. His excellent expertise gets results. I cannot thank him enough for all he's done." -Barbie Schuchart-Carlisle, author of My Path of Faith: A Life's Journey Learning to Love

"Rick Lite and Stress Free Book Marketing has lived up to his company's name by greatly reducing the amount of stress that marketing had been causing me! Trying to pay attention to a veritable cloud of information about book marketing is exhausting and Rick helped me achieve my goals for my book. What is really impressive is that my genre is "Poetry", one of the most neglected of literary genres, a poor stepchild. Rick did an outstanding job helping me create a solid, fun and productive foundation for my brand." Thank you, Rick, for helping me sleep better at night.

"I'm into the very process of working with Rick to market my mid-grade, middle school fantasy about loss, struggle, recovery. He's a terrific guide. Knowledgeable. Helpful. And he calms me down when the goin' gets rough. Cheers."

I hired Rick Lite to help me self-publish and market my children's book.  He was very knowledgeable and supportive every step of the way. I appreciated speaking to him at our set time every week to hear what he was doing for me and to give me plenty of time to answer my questions. Using his wealth of personal experience, he conveyed the information in a way that was clear and concise.  He spent a lot of time helping me with a variety of marketing tasks that I could never handle myself. Rick also helped me tweak my website. For the amount of time he spent on my book, I thought this was worth every dollar. I would highly recommend Rick for anyone considering self-publishing or marketing.

"Rick Lite is a great coach, a skilled facilitator, and a natural mentor. He has a wealth of experience-based knowledge on everything a self-published author needs to know, to succeed in a confusing and highly competitive market. He was able to quickly spot what was required to take my marketing strategy to a new level and came up with simple but effective solutions to many marketing challenges. Ultimately, it all boils down to the fact that Rick really wants you to succeed as an author and as a publisher."

As an author, writing is my craft. Publishing, on the other hand, was unfamiliar and overwhelming. Stress Free Book Marketing took the mystery out of self-publishing. Having an expert in my corner made things efficient, and helped ensure everything was done right the first time. My book is a beautiful finished product, and I owe it Rick Lite at Stress Free Book Marketing! Thank you!"

"Rick was a great help in the pre-self-publishing through post publishing process. I think he would have been even more helpful if I had contacted him earlier and developed a social media presence months before publication. Nevertheless, he was a great help with my book description and bio and in mastering the complexities of IngramSpark and CreateSpace/Amazon. He offered a variety of marketing ideas from using Twitter and Goodreads to suggesting newspapers and magazines that might be interested in various themes in my book."

Rick Lite helped me launch my book Hidden Treasures in Secret Places with his creative and innovative marketing ideas. His knowledge of book promotions, marketing and distribution are valuable to any author. I was lucky to find him when I did and look forward to working with him again.

Rick had the patience of a saint when he stepped in to help me after a confusing situation with another publisher. He has great knowledge of IngramSpark, was accessible and always exhibited patience and understanding. Whenever I spoke to him he made me feel that he genuinely had my interest at heart.

"I've worked with Rick for over 2 years. He is a consummate professional. He is passionate about his business and his products and tirelessly works on their promotion. I've been impressed with his business acumen and commitment to growing his business."

"As an author, I want to focus on creating the most compelling book possible and not worry about the mechanics of publishing. Stress Free Book Marketing not only took care of all the details, they provided valuable guidance on the print size, copyright language and other decisions I hadn't even thought to consider. I can honestly say, "Unleash Possible: A Marketing Playbook that Drives Sales" would never have reached production in time for an important industry event had it not been for Rick and his team."

"Stress Free Book Marketing is an invaluable resource to fast track self-publishing. Rick is knowledgeable, detail-oriented and experienced. He has a proven marketing strategy that can be applied to any genre of book. He takes cares of all the fine details and is available for assistance whenever you need him. I highly recommend Rick Lite and Stress Free Book Marketing.  The name really says it all!"

"Rick is extremely knowledgeable in the art of publishing books and seems to be an expert in book marketing. He helped me improve my product descriptions and position on Amazon, and made suggestions that I know will lead to more sales. His mentoring style of patience and knowledge seem to be a perfect fit for me."

"Rick Lite of Stress Free Book Marketing is a wealth of information and marketing expertise when it comes to positioning book or CD titles online. He worked with a number of our titles and set them up for success. He was instrumental in helping us convert our titles to eBooks and bring them to market."

"I sincerely appreciated Rick Lite of Stress Free Book Marketing sharing his knowledge about self-publishing with me. Although my immediate need was printing, Rick provided advice and answered questions on distribution and marketing. His wealth of knowledge was impressive and I plan on consulting with him again as I continue to progress down the self-publishing path."

"Rick Lite has marketing expertise when it comes to positioning book or CD titles online. He worked to position our series of CD/mp3 titles on Amazon helped increase sales. His breath of knowledge on how Amazon works and his patience in dealing with online retailers is astounding."

"Publishing my first book was an overwhelming task. With the help and guidance of Stress Free Book Marketing and Publishers, it was made into a learning and exciting experience. Rick Lite guided me through the entire process and was patient and thorough as he taught me about book publishing. I highly recommend them to help you with any publishing needs.  I am so glad to have worked with Rick and to count him as a friend."